Jury awards $17.3 million to immigrant workers in minimum wage class action suit against the Tacoma ICE Detention Center
Firm News
•
Class Actions
|
Oct 30, 2021
Today, a Federal Court jury awarded a group of detained immigrants $17.3 million in a precedent-setting decision to compensate them for working for $1 a day while detained at the privately run Northwest ICE Processing Center in Tacoma, Washington. The jury previously ruled that The GEO Group Inc. (GEO), the center's owner and operator, violated Washington's minimum wage laws by inadequately compensating detainee workers.
The victory for immigrant workers was championed by Schroeter Goldmark & Bender attorneys Jamal Whitehead and Adam Berger, along with other partners, including Washington Attorney General Bob Ferguson. The jury's award will compensate more than 10,000 class members who have provided operational labor for the detention center dating back to September 2014.
"Profiting off the labor of a dollar-a-day immigrant worker is unconscionable, and if not for brave people like Goodluck Nwauzor who stepped forward, GEO may not have been held accountable," said Whitehead on behalf of the trial team representing the private plaintiffs.
Co-counsel Andrew Free added, "We're grateful to all the courageous men and women who came forward to share their experiences throughout our five-year investigation and prosecution of these claims. Their unwavering belief that a better future is possible lit the path to the new reality this decision heralds."
Many of the detained immigrants, including Nwauzor, were held at the facility while waiting for decisions on their immigration court cases. Nwauzor – a Nigerian-born asylum seeker – was granted asylum status in 2017 and lawful permanent residency in 2018 after an eight-month detainment during which he worked for months for just $1 a day cleaning the showers in his living unit of 60 other men.
"My heart is filled with joy," said Nwauzor about the jury's verdict.
Today's decision concludes the second phase of the trial. In the first phase, joined by the Washington Attorney General's Office, the seven-person jury found GEO liable for wage-law violations spanning seven years.
According to Berger, the case is significant because it's the first of its kind in the nation.
"Immigrants held in GEO's for-profit facilities are not criminals and should not be beholden to enriching the corporation's bottom line," Berger said. "The jury's verdict makes it clear that Washington won't tolerate the exploitation of detained persons by private corporations, and we hope to see workers' rights upheld elsewhere, as well."
According to the suit, at the time of the detention center's contract renewal in 2015, the center was projected to generate $57 million in revenue every year, operating at full capacity and housing up to 1,575 immigrant detainees. Yet, conditions at the facility were repeatedly called into question – many have protested the center's overcrowding and lack of access to medical care and basic supplies like soap.
According to court documents, rather than hire from the local workforce, GEO relied upon captive detained immigrants to clean, maintain, and operate the facility, including preparing and serving food, laundry services, and cleaning the facility.
Joining SGB attorneys as co-counsel on the case were Andrew Free of the Law Office of R. Andrew Free; Devin Therriot-Orr of Open Sky Law PLLC; and Meena Pallipamu Menter of Menter Immigration Law PLLC. Marsha Chien, Andrea Brenneke, and Lane Polozola tried the case on behalf of the Attorney General's Office.
"Together we fought for thousands of detained immigrants whose rights were violated under the law," Whitehead said. "We look forward to continuing the fight for justice and fair wages for all."
For more information and updates on this case, visit www.sgb-law.com.
###
About Schroeter Goldmark & Bender:
Founded in 1969, Schroeter Goldmark & Bender (SGB) is a nationally recognized law firm based in Seattle that holds the most powerful companies, government agencies, and people accountable for their wrongdoing. SGB specializes in representing injured persons in asbestos and mesothelioma, catastrophic injury, brain/spinal cord injury, medical malpractice, unsafe products, wrongful death, sexual assault and harassment, as well as individual and class action employment cases. The firm believes the law is a force of good and is committed to achieving justice for people who have been harmed. Find more at www.sgb-law.com.

Media Contact:
Kristi Herriott
206.466.2702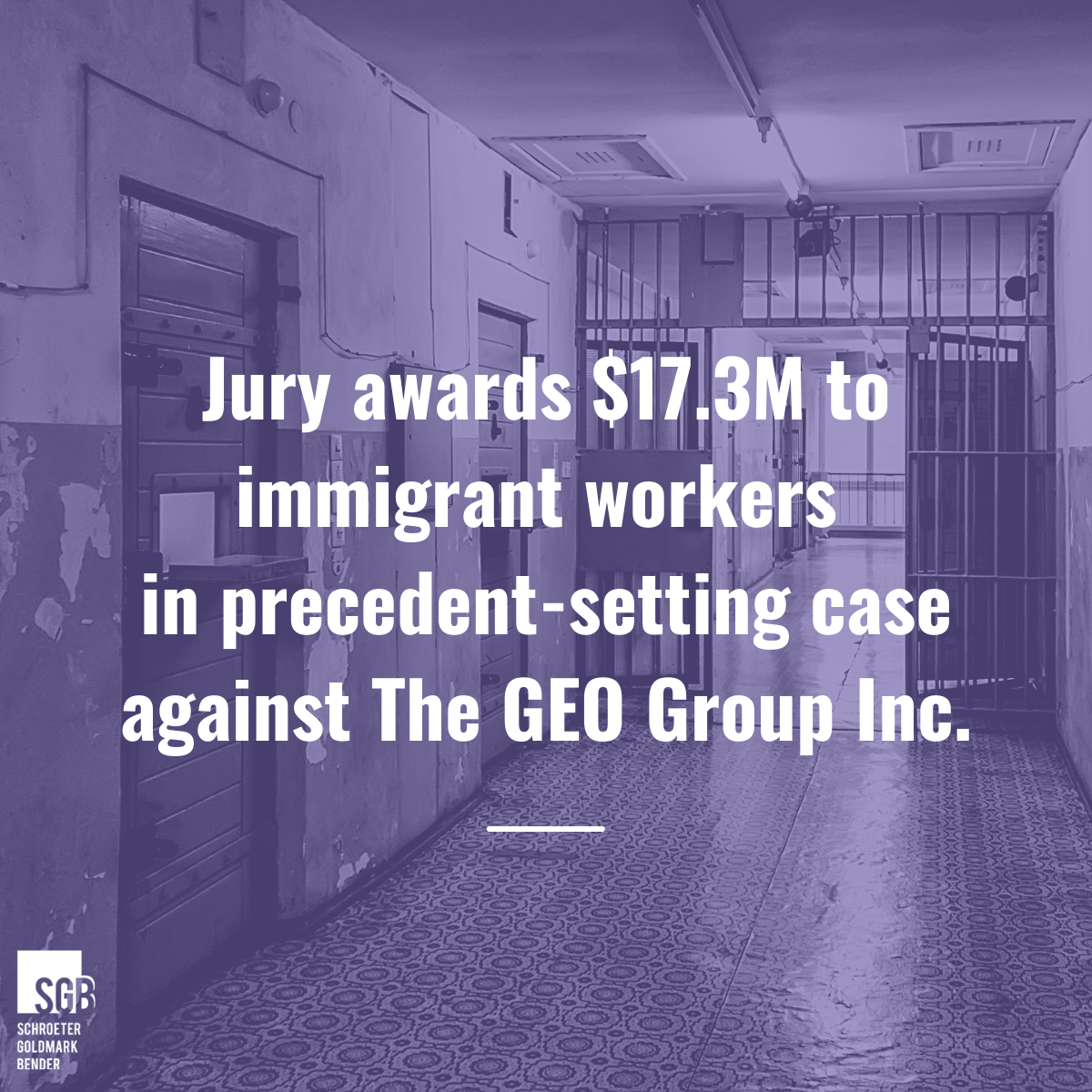 ---