Schroeter Goldmark & Bender Welcomes Craig Sims as Shareholder
Sims joined SGB in 2018 where he continued his work to seek accountability while honoring the lives of his clients and their families. He has a proven record of accomplishment in litigating cases with significant verdict wins and settlements exceeding $20 million. He has been the lead trial lawyer in multiple trials with successful settlements and plaintiff verdicts, including the largest asbestos jury award in Oregon.
"The reason I became an attorney is because of my calling to serve others," Sims said. "That same mindset and mission is what makes Schroeter Goldmark & Bender a great fit. I'm pleased to be joining a diverse shareholder group of talented attorneys who share a passion for justice and who are committed to SGB's 50-plus-year tradition of holding powerful interests accountable for wrongdoing. Together we'll honor our longstanding values and continue to guide the firm in the ways that distinguish SGB as innovative, experienced and unwavering in our dedication to our clients' success."
Before entering private practice, Sims was the Criminal Division Chief in the Seattle Attorney's Office, where he led a team of over 60 attorneys and staff. He also served as a Sr. King County prosecutor for more than a decade where he prosecuted homicide and other high-profile cases as a part of the Most Dangerous Offenders Program (MDOP).
In addition to practicing law, Sims has taught as an adjunct professor at Seattle University School of Law and as a visiting lecturer at the University of Washington Law School. He is a member and past president of the Loren Miller Bar Association, which recognized him with its Excellence in the Legal Profession award. Sims is also a member of the Washington State Bar Association, a board member of the Washington State Bar Leadership Institute and is recognized on the Best Lawyers in America list for 2022 and 2023.
Sims graduated with his bachelor's degree from the University of Oregon and earned his law degree from Seattle University. Throughout his career, Sims has traveled the country consulting on issues of diversity and equity. He is often asked to speak at lawyer training courses on all aspects of trial presentations. Outside of the courtroom and speaking venues, he enjoys spending time with his family, playing drums in a blues band, and barbequing.
To learn more about Sims and SGB, visit www.sgb-law.com.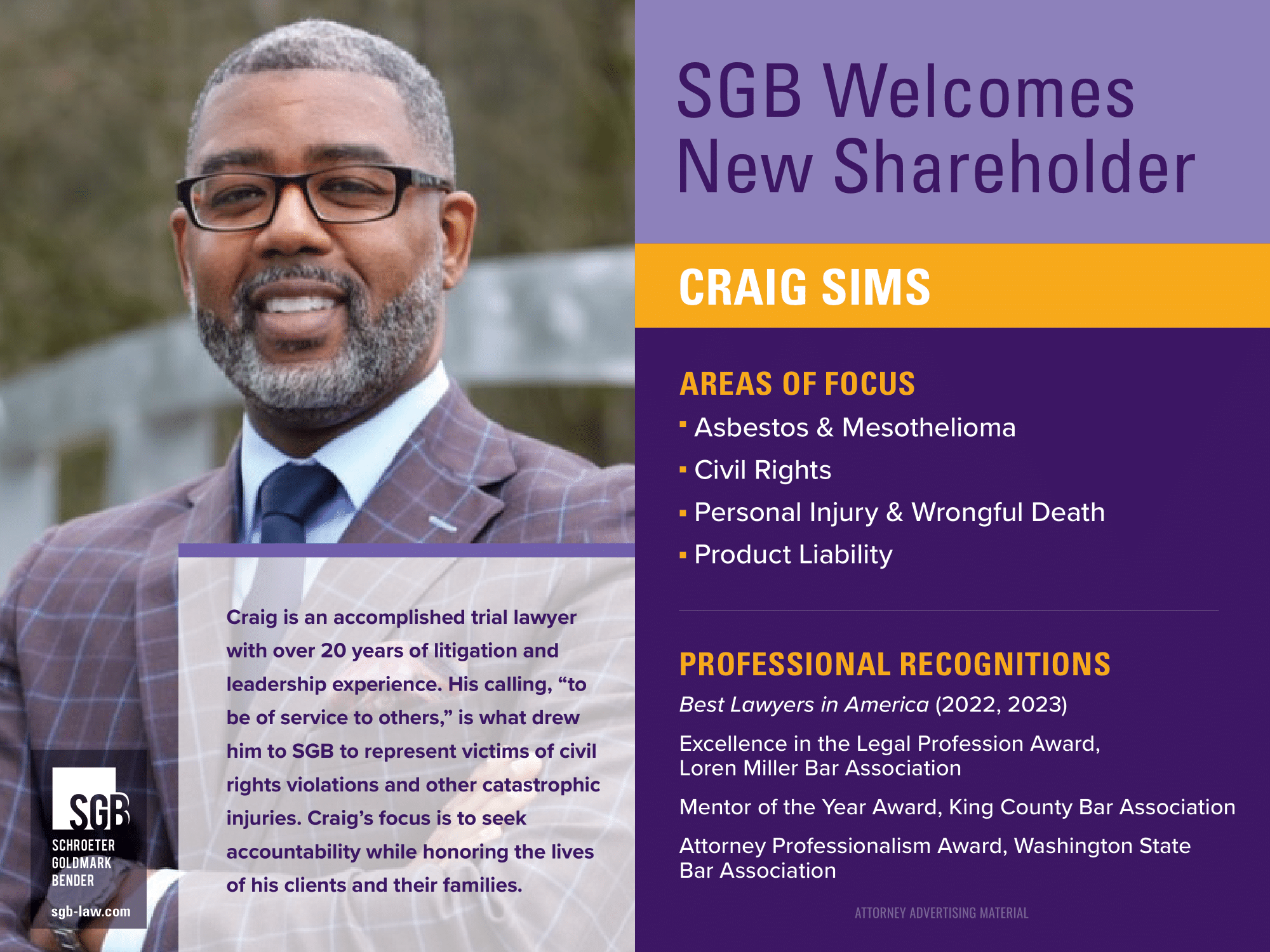 ---