Former King County Senior Deputy Prosecutor Julie Kline Joins Schroeter Goldmark & Bender
Schroeter Goldmark & Bender (SGB) recently welcomed Julie Kline to the Seattle-based law firm's team of experienced trial attorneys. Kline is a former senior deputy prosecuting attorney for King County as well as former senior advisor and interim general counsel to Seattle mayor Jenny Durkan. She brings more than 20 years of experience advocating for victims and seeking justice for her clients.
Kline's practice at SGB will focus on violent crimes; sexual assault and harassment; serious injury and wrongful death; elder and vulnerable adult abuse; and medical malpractice.
Prior to joining SGB, Kline served the City of Seattle, beginning in 2019 as a senior advisor to Mayor Durkan, focusing on public safety as the primary liaison with the Seattle Police Department, Seattle Fire Department, Courts, and Office of Emergency Management.
In 2020, her role broadened in response to globally unprecedented events, and pivoted to include developing and implementing the city's nationally recognized COVID-19 pandemic public health response as she worked closely with public health experts, and local, state and federal agencies. By the end of her time with the City, Kline was also serving as interim general counsel to the mayor.
Kline also spent more than 15 years at the King County Prosecutor's Office, where she quickly earned a reputation as a talented and fierce trial attorney, focused on prosecuting homicides and violent crimes. During her time as a prosecutor, Kline was selected to join the King County Prosecuting Attorney's Most Dangerous Offender Program (MDOP), and she was recognized with the "Outstanding Trial Advocacy" award for the criminal division as a senior deputy prosecuting attorney.
Following her tenure with the City of Seattle, Kline's desire to return to victim advocacy work led her to SGB. "I've spent my career fighting for those without a voice and holding those in power accountable, and I look forward to continuing that work at SGB," said Kline. "The firm's reputation and commitment to advocating for victims make it a natural a fit for me and I'm ready to fight for justice on our clients' behalf."
Having grown up in the Seattle-area, Kline is the product of local schools and earned her law degree from Seattle University. She lives in Seattle with her family and spends her free time gardening, traveling, coaching youth soccer, and rooting for the Sounders.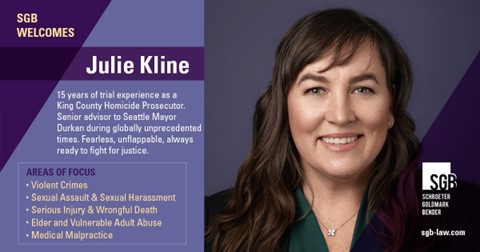 ---