Court certifies class action lawsuit against Virginia Mason Medical Center for failure to compensate healthcare workers for missed meal and rest breaks
Class Actions
•
Firm News
|
Oct 01, 2021
SEATTLE, Sept. 30, 2021 – A King County Superior Court judge recently certified a class action lawsuit against Seattle-based health system Virginia Mason Medical Center alleging that the organization failed to fully compensate hourly healthcare workers for missed rest and meal breaks. The certified class includes as many as 5,000 hourly employees who worked at Virginia Mason between March 24, 2017, and January 25, 2020.

According to the suit, the electronic time keeping system used by Virginia Mason across 11 hospitals and nearly 300 sites of care to track employee time and attendance did not consistently and accurately reflect instances when employees worked through their meal breaks and rest periods. Additionally, the suit alleges that not only are class members owed wages for missed breaks, but that they are entitled to additional compensation and interest for working through their unpaid meal breaks.
"Our healthcare workers work hard, and they shouldn't have to double and triple check their paychecks to make sure they're paid fairly," said Schroeter Goldmark & Bender attorney Adam Berger who represents the certified class of workers. "Virginia Mason should do the right thing and pay these frontline healthcare workers what they're owed."
Court documents show that Virginia Mason's time keeping system automatically deducted a 30-minute meal break from the daily hours clocked by employees on the assumption that all meal periods would be provided and taken. However, if a meal was missed because an employee was too busy to take a break, for example, employees could cancel the "auto-deduct" by selecting an option on a punch clock, or by accessing their timecards online. Similarly, employees could indicate in Virginia Mason's system whether they had missed a rest break.
In theory, these options would cancel the automatic meal-break deduction or add time for missed rest breaks back to the employee's total hours work for the day. In practice, however, employees often received no additional compensation when they reported a missed rest or meal break, as Virginia Mason's system did not necessarily cancel the auto-deduct meal period, nor compensate employees for the missed rest break.
"As a healthcare worker, I should only have to worry about keeping patients safe and healthy. I shouldn't have to worry about being shortchanged on my paycheck," said Rheannon Androckitis, a former Virginia Mason employee and the named plaintiff in the lawsuit. "Whether this was an accident or on purpose, it'd be nice if Virginia Mason would take responsibility and pay everyone for the breaks they worked through."
On the day the court heard plaintiffs' class certification motion, Virginia Mason began the process of making some retroactive payments to workers for missed rest breaks. However, the organization did not provide any additional compensation for missed meal breaks, and plaintiffs assert that even the rest break payments are inadequate.
"Our community is depending on healthcare workers more than ever. The least we can do is recognize the countless and critical hours they spend caring for others with fair pay. This suit is simply asking Virginia Mason to remain accountable to compensating its healthcare workers according to their own agreements," said Schroeter Goldmark & Bender attorney Jamal Whitehead.
A notice to all class members was mailed on August 26, 2021. To learn more, visit www.sgb-law.com.
###
About Schroeter Goldmark & Bender:
Founded in 1969, Schroeter Goldmark & Bender (SGB) is a nationally recognized law firm based in Seattle that holds the most powerful companies, government agencies, and people accountable for their wrongdoing. SGB specializes in representing injured persons in asbestos and mesothelioma, catastrophic injury, brain/spinal cord injury, medical malpractice, unsafe products, wrongful death, sexual assault and harassment, as well as individual and class action employment cases. The firm believes the law is a force of good and is committed to achieving justice for people who have been harmed. Find more at www.sgb-law.com.

Media Contact:
Kristi Herriott
206.466.2702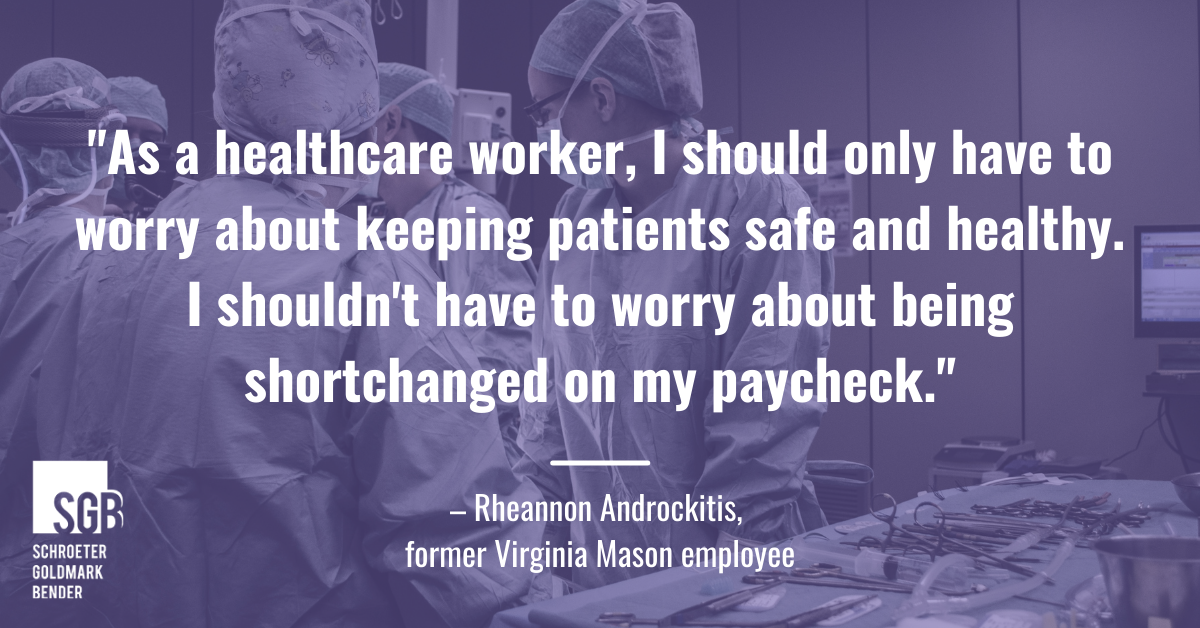 ---